Full Service Washes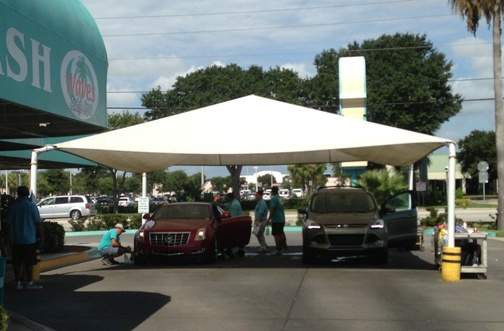 THE WORKS - $20.95
Deep Clean Tunnel Wash with Triple Foam
Interior Vacuumed
Windows Cleaned
Exterior Surfaces Towel Dried
Door Jambs Wiped
Dash and Front Cupholders Wiped
Wheels and Rims Cleaned
Tire Shine Applied
Bug Removal
Air Freshener Upon Request
THE RAINX™ - $23.95
Everything included in THE WORKS Plus...
Bodyshield (UV Protectant and Spot Guard) Applied in the Tunnel. Synthetic Polymer Based Technology. Adds a layer of protection and shine to your paint surface.
THE TROPICAL WAX™ - $27.95
Everything included in THE THE RAINX™ Plus...
Yellow Pina Colada Scented Liquid Carnuba Wax. Applied in the tunnel offering your vehicle an incredible level of protection and shine.
THE ULTIMATE - $34.95
Everything included in THE TROPICAL WAX™ Plus...
Two Front Mats Shampooed
Dash, Front Door Panels and Console
The ULTIMATE 4 - $44.95
For an additional $10 includes the ultimate plust the back 2 mats shampooed and door panels cleaned and protectant applied.