Ceramic Pro


MORE
THAN A


PROTECTIVE


COATING
360° INTERIOR
1 layer of Leather
on all leather surfaces & trim
1 layer of Textile
on all fabric surfaces & trim
1 layer of Plastic
on all plastic surfaces & trim
YOUR CAR DESERVES THE BEST PROTECTION.
GET

COATED
THE MOST ADVANCED

COATING

SYSTEM
CERAMIC PRO is a clear, liquid nanoceramic coating, based on a revolutionary formula. When cured, this technology will chemically bond, transforming itself on the
surface to become a rigid, superstructure of nanoglass, protecting the substrate it is applied to indefinitely.
Ceramic Pro was designed as an industrial, multi-functional, protective coating for all surfaces.
The nanoceramic glass coating forms an exceptionally strong and durable shield, resistant to solvents, acids, alkalis, UV rays, harsh weather conditions and corrosion.
WARRANTY
Ceramic Pro LLC warrants all vehicles' exterior painted surfaces coated with Ceramic Pro 9H and Light from environmental induced contaminants. For the complete terms and conditions of this warranty, contact your certified Ceramic Pro Installer.
SEE THE
CERAMIC PRO EFFECT





SLICK FINISH


FOR THE WHOLE
VEHICLE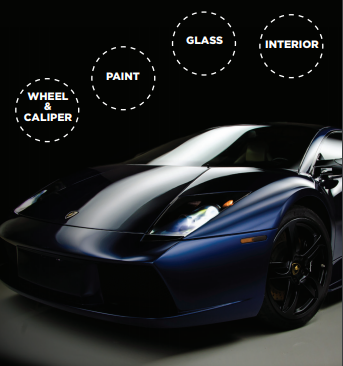 THE CERAMIC PRO PACKAGES
MSRP based on the condition of the vehicle.
GOLD EXTERIOR $990

|Lifetime Warranty|
4 layers of 9H on paintwork & trim
1 layer of Light on paintwork & trim
1 layer of Wheel & Caliper on wheel faces
2 layers of Rain on windshield & glass
SILVER EXTERIOR $590

|FIVE YEAR WARRANTY|
1 layer of 9H on paintwork & trim
1 layer of Light on paintwork & trim
1 layer of Wheel & Caliper on wheel faces
2 layers of Rain on windshield & glass
BRONZE EXTERIOR $390

|TWO YEAR WARRANTY|
1 layer of Light on paintwork & trim
1 layer of Wheel & Caliper on wheel faces
2 layers of Rain on windshield & glass